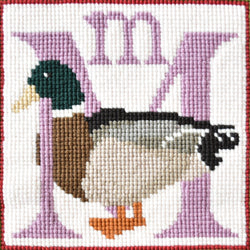 The letter M from the the Animal Alphabet.
Design size is 6 x 6 inches and each kit includes printed canvas measuring 10 holes per inch, chart card, Elizabeth Bradley Tapestry Wool, needle threader and needles.  Each kit includes cream background wool. 
EBAAM
M for Mallard
Really enjoying stitching this as for new granddaughter. They are fun kits to do!
M is for Mallard
I love these kits and have done quite a few of them for friends - for birthday's, house warmings and just for Christmas gifts. They are always well received !
Fácil de hacer, bonito regalo
Estos kits los hago para regalar son fáciles de hacer y quedan muy bonitos en las habitaciones de los bebés.