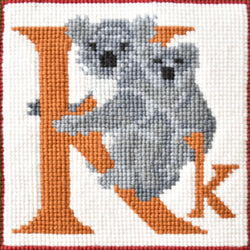 The letter K from the the Animal Alphabet.
Design size is 6 x 6 inches and each kit includes printed canvas measuring 10 holes per inch, chart card, Elizabeth Bradley Tapestry Wool, needle threader and needles.  Each kit includes cream background wool.
EBAAK
I have just finished this design and it was great fun to do, small and easy! I will be stitching all the letters for my children. The colours were very easy to see and it only took me one week to do.
Perfect packaging and great quality.
Cute and fun.
I loved working this design.
It's small, fun and easy to do.
Working my way through one of the Bell Pulls, which I love, it was really nice to just start and finish quite quickly, the Koala picture. Recommend.