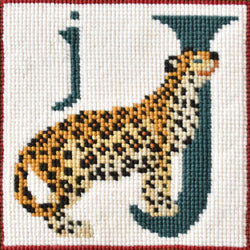 The letter J from the the Animal Alphabet.
Design size is 6 x 6 inches and each kit includes printed canvas measuring 10 holes per inch, chart card, Elizabeth Bradley Tapestry Wool, needle threader and needles.  Each kit includes cream background wool.
EBAAJ
Cute
The Jaguar is a really cute and fun to stitch. I stitched it and put it into the natural oak box. It's a gift for my great-nieces first baby, Julian, due in November. I can't wait to gift it! It's really cute and perfect for baby!
Delightful!
I did it for friend's young son, he loved it and so did they. It was great fun to do!
Dalmatian Dog
I recently finished the Dalmatian Dog pillow and I am so very pleased!! It is just gorgeous! I love Elizabeth Bradley products!!
Jolly Jaguar!
I sent this to my cousin who hadn't been well. Her name begins with 'J' funnily enough! She really loved doing it and I adore the quirky design with the smiling jaguar. These small kits are so lovely as they can be completed relatively quickly and give a huge sense of achievement. Gorgeous colours too!