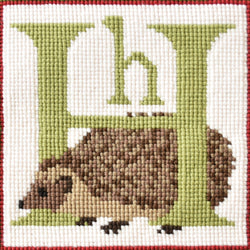 The letter H from the the Animal Alphabet.
Design size is 6 x 6 inches and each kit includes printed canvas measuring 10 holes per inch, chart card, Elizabeth Bradley Tapestry Wool, needle threader and needles.  Each kit includes cream background wool. 
EBAAH
Cute design
Very cute design and wonderful materials. Really a pleasure to work with.
Cutest design
I'm still working on my cross stitch of the H - Hedgehog 🦔 but everyone I've shown thinks it's utterly adorable. I plan on having it framed when I complete it.
Lovely little tapestry
Having searched online for a good hedgehog tapestry for my granddaughter- this one really stood out as the little creature had such a sweet face and did resemble a real hedgehog! A great success - it is being framed as a little picture! Your tapestries are a joy to work - I have done many of them over the years - they really stand out and the quality of the kits shows through!!
Best kit. Ever.
I learned to needlepoint (gulp) 56 years ago. In all that time I've never purchased a kit so well designed and with more clear instructions. The quality is unsurpassed (I've done some fancy things in my lifetime!) and the quantity of wool is generous. I'm a bit of a rule breaker but due to my never having used the required Victorian Cross Stitch I decided to follow all instructions since this piece is for a VIP named after me! My only suggestion is that if, like me, you're unfamiliar with this stitch you should practice with some scrap wool in order to regulate your tension and establish your "rhythm." As an aside: customer service is superb. I had a "hiccup" on my order (I purchased 3 letters and forgot to add a promo discount code); once I realized my error I sent an email and got an immediate response. This is from a customer for life!
Cross stitch first timer
Excellent kit, well presented, came very quickly. It's particularly good to have the chart and the swatch of the different numbered wools, particularly when the colours are similar.
Although I had done tapestry before, I hadn't done Victorian cross stitch. I found it essential to watch the videos before I started, but once I got the hang of it, it was easy enough and the piece is turning out really well.
It would be helpful to have a video on how to do a detailed pattern. Negotiating the different browns of the hedgehog is quite challenging!