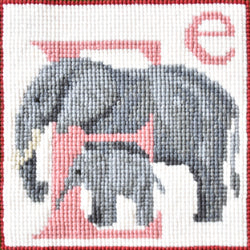 The letter E from the the Animal Alphabet.
Design size is 6 x 6 inches and each kit includes printed canvas measuring 10 holes per inch, chart card, Elizabeth Bradley Tapestry Wool, needle threader and needles.  Each kit includes cream background wool. 
EBAAE
Elaine
I have almost all of the alphabet letter kits..I love that they are portable for travel!
A Special"E"
A lovely piece! Easy to make in no time! Originally made it for myself, since my initials are EEE !! But my Grandson put the grabs on it!! May have to get another one!!🤗
E is for Ethan
Completed this lovely project in a week. Easy to follow and stitch. Ample thread to adjust for mistakes here and there.
Just beautiful !
My seventh letter
EVERYONE in our family has at least one letter. I do them for family members of all ages. Love the portable size for travel and beach