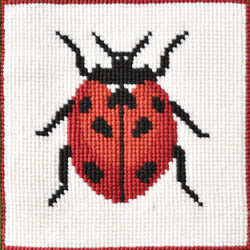 The Lady Bird design captures the innocence and wonder of childhood. Lady Birds, also known as ladybugs, are a beloved symbol of good luck if they land on you. In British folklore, they are seen as protectors of gardens and bringers of joy. Stitching this design is like reliving the curiosity and delight of discovering these tiny creatures as a child.
The Lady Bird Design size is 6 x 6 inches and each kit includes printed canvas measuring 10 holes per inch, chart card, Elizabeth Bradley Tapestry Wool, needle threader and needles.  Each kit includes cream background wool. 
EBLadybird 
Lady Bird - MJM
This was my first project and I really had fun with it. The only draw back that I have is that I missed having more details on how to handle the change of colors, but I was able to figure it out. Also, as for the background color I ran short on the yarn. Other than that, was pleased with the project. Hopefully I will purchase other ones in near future.
Love the quality of your products!