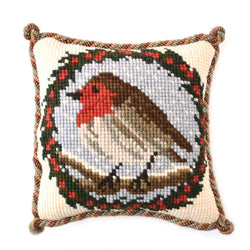 The Robin design is 6" x 6" on a 10" x 10" canvas. The kit includes printed canvas measuring 10 holes per inch, chart card, needles, needle threader and Elizabeth Bradley Tapestry Wool.
Please note this kit comes with the background colour as pictured.  
EBMIN23
Robin kit
I've not begun yet and it has been years since I did my last kit. But all of them have been best fun and quality.
The future
I haven't started this little robin because I am in the process of moving out of state after 25 years in this house! Can't wait to get settled and give him my undivided attention!
A great kit for gifting or completing yourself that contains everything needed to make a multi generational appreciated needlepoint.
Another great product!
Love working the mini kits -- they can be finished in a number of ways to make super gifts!
Fabulous!
Everything was just as described. The lovely wool (so soft) was perfectly sorted. I love the sample wool colors which makes it so easy to know what color goes where. Everything was perfect about it. I dived right in and, because of your great videos, I knew exactly what I was doing. I have ordered a larger project!