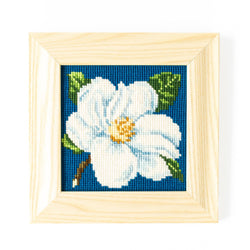 The Magnolia design is 6" x 6" on a 10" x 10" canvas. The kit includes printed canvas measuring 10 holes per inch, chart card, needles, needle threader and Elizabeth Bradley Tapestry Wool.
Please note this kit comes with the background colour as pictured.
EBMIN50
Classic
5 stars
I'm half way thru and as with all Elizabeth Bradley designs the canvas is superbly outlined. Very seldom do I refer to the guide.
The color selection is beautiful; the background really shows off the magnolia.
Beautiful and Portable
I purchased this kit to practice the Victorian cross stitch method before attempting a larger piece. This size is purse and travel friendly and absolutely beautiful! It is almost finished and will look stunning set in the top of the white oak wooden box.
All of Elizabeth Bradly kits are gorgeous and really fun to work. The new printing process makes it really easy to see where to stitch.
Magnolia Mini Kit
I love these mini kits! They are fast, fun, and beautiful when finished! The colors are fabulous, and they transport easily. I take them with me and pull them out instead of wasting time looking at my phone. Did I say how much I love them?!!!