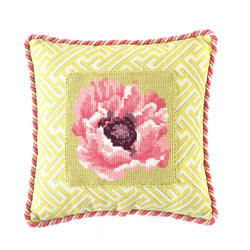 The Poppy design is 6" x 6" on a 10" x 10" canvas. The kit includes printed canvas measuring 10 holes per inch, chart card, needles, needle threader and Elizabeth Bradley Tapestry Wool.
Please note this kit comes with the background colour as pictured.  
EBMIN33 
My First EB Kit
I am very pleased with the kit - beautiful packaging-gorgeous yarn colors! Instructions & suggested videos got me off to a great start.
Help Desk was great answering a few questions along the way.
Poppy Mini Kit
Very happy with this mini kit. I have made a few of them in the past for presents.
So pretty
These kits are so beautiful. The printing of the canvas is so accurate that it allows a person to fully enjoy the stitching experience without the distraction of double-checking, counting and concern over choice of color at intersections.
:)
Great kit with sufficient wool to finish the piece. I also bought a box from the website to go with it and it fits well into the box and looks great! Just the gift I was looking to give to a loved one :)