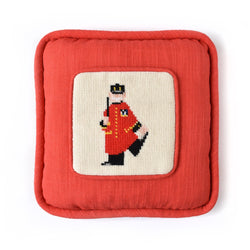 The Major design is 6" x 6" on a 10" x 10" canvas. The kit includes printed canvas measuring 10 holes per inch, chart card, needles, needle threader and Elizabeth Bradley Tapestry Wool.
Please note this kit comes with the background colour as pictured.  
A portion of sales from this kit is donated to the Royal Hospital in support of the Chelsea Pensioners. 
EBMIN41
The Major
Loved working this. Enough differentiation to give me something to think about but not to much that I was unable to relax whilst completing it.
Very good as ever, looking forward to seeing it n time. May even do the tw others to make a super cushion or framed piece.