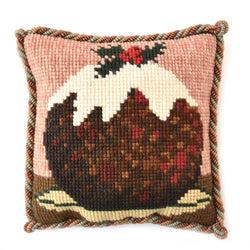 Christmas Pudding Mini Kit
The Christmas Pudding design is 6" x 6" on a 10" x 10" canvas. The kit includes printed canvas measuring 10 holes per inch, chart card, needles, needle threader and Elizabeth Bradley Tapestry Wool.
Please note this kit comes with the background colour as pictured.  
EBMIN29
Sweet Treat
EB minis are so fun to stitch and finish with EB boxes or small acrylic trays.This Christmas I gave several as gifts, and the recipients were delighted. Everything in the kits is well presented and organized. I'm working on the pudding while keeping my nonagenarian mother company.
What a sweet treat it will be for her when finished!
Christmas Pudding Mini Kit
A Sweet Treat!
This little pudding kit was my first try at needlepoint or stitching of any kind. The instructions were clear and easy to follow, and the materials are great quality. The kit included everything I needed to complete the project. The only thing I used that wasn't included in the kit was a scissor, so no special tools required. I also made use of the tutorial videos on the EB website and soon I was stitching away. It's been fun to work on this while in quarantine during these stressful times - it occupied my mind and hands and at the end of a few days I now have a completed project and I feel I've accomplished something that will bring me joy for years to come. I'm playing around with adding a few small embellishments while I wait for my next kit to arrive - I highly recommend trying this sweet treat!