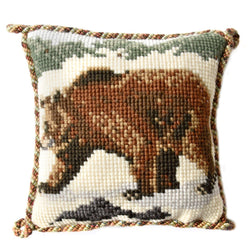 The Brown Bear design is 6" x 6" on a 10" x 10" canvas. The kit includes printed canvas measuring 10 holes per inch, chart card, needles, needle threader and Elizabeth Bradley Tapestry Wool.
Please note this kit comes with the background colour as pictured.  
EBMIN19 
Brown bear mini
The kit is lovely and complete and as if it were larger than a 6'x6'. I look forward to working on it.
I love it!! I will definitely order more kits.
Great gift!
I bought this for one of my grandchildren so they can begin learning how to needlepoint! This is so cute and I can't wait to help them get started!!
Brown Bear Mini Kit
I've totally enjoyed it. Materials are first rate with easy to follow instructions. Will definitely venture to purchase a bigger kit after completing this one.