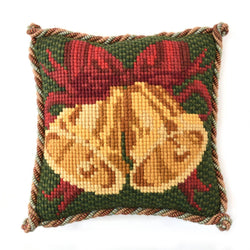 The Bow and Bells design is 6" x 6" on a 10" x 10" canvas. The kit includes printed canvas measuring 10 holes per inch, chart card, needles, needle threader and Elizabeth Bradley Tapestry Wool.
Please note this kit comes with the background colour as pictured.  
EBMIN28
Now
Started already for holiday presents! Looking at the box picture and inside made me stop on two others and totally focus on this one….well, two different ones I ordered!!!!
Bow and Bells
Very nice! Starting it now.
Bows and Bells Mini Kit
It's just perfect size for a beginner project and one your surely to display around the holidays.
Bow and Bells
Love stitching these mini kits. The kits are painted on very high quality canvas with a color chart to follow if you need for referencing. I plan on doing many more mini kits!