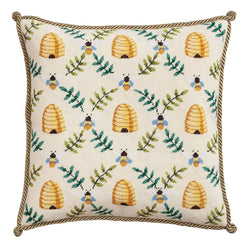 Beehive Trellis - Kirk and Bradley for Elizabeth Bradley
The Beehive Trellis kit is part of our Kirk & Bradley range. The design is 18.5" x 18.5" on 22.5" x 22.5" canvas. The needlepoint kit is printed on 12 count mono canvas and is supplied complete with Elizabeth Bradley wool, needle, needle threader, a printed chart, and easy to follow instructions for Basketweave Stitch. This kit comes with Gold background wool.
EBKB044P
Excellent quality
Well marked canvas, superior yarn quality, and generous sizing. This is a gift for my bee keeper friend. Next project is a 4 panel rug. This is my 3rd project and I highly recommend Bradley Design so do not get discouraged and use YouTube instructions if in doubt. Only wish I could find someone one to do the rug binding.
Beehive Trellis - Gold
I am delighted in my new kit purchase of the Beehive Trellis - Gold, In fact, I could not decide whether to purchase the gold or blue background, so I purchased both. I cannot wait to begin stitching!
Stunning Piece
The BeeHive Trellis has long been a favorite.
It arrived so beautifully packaged and it was like opening a wonderful gift. I will enjoy working on it during the long winter months!