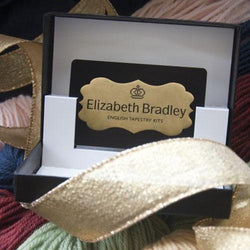 Give the gift of an Elizabeth Bradley gift card to your favorite needlepointer!
Physical gift cards are mailed to the address provided at checkout. Gift card will come in a box with a place for you to write a gift note.
A Beautiful Gift.
The gift certificate is beautiful and comes beautifully packaged.
I gave it to a good friend for her Birthday.
She was thrilled!
Everything about Elizabeth Bradley is top notch!
Great Gift!
Purchased two gift cards for daughters and they loved them! All of us women in our family love Elizabeth Bradley kits. It is just hard to pick out one because they are all so beautiful!