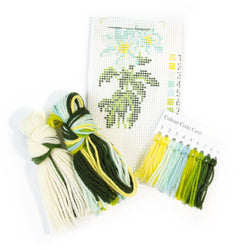 The Starter Kit range makes a wonderful introduction to the world of Elizabeth Bradley! These kits are small in size, making them perfect for beginners to become familiar with Victorian Cross Stitch.
The design is 3" x 5". The Needlepoint Kit is printed on 10 count interlock canvas and is supplied complete with Elizabeth Bradley wool, needle, needle threader, a printed chart, colour code card, and easy to follow instructions for Victorian Cross Stitch. This kit comes on a Winter White background colour only.
EBSTAR2
Starter Kits
The new starter kits are a wonderful introduction to share the joy of Elizabeth Bradley stitching with others. They are also terrific for experienced stitchers to enjoy the smallest kits of Elizabeth Bradley with the same high quality of larger kits in a very portable format. They easily fit in a handbag or pocket. They are lovely gifts for a very reasonable price. A perfect "stocking stuffer" at Christmas!
Not Only for Beginners
When my grandkids get into my car after school, they always comment on the flower I've been working on while waiting in the long line of cars. They think it's a beautiful thing to do instead of scrolling my iPhone while I pass the time. Even though I have several large Elizabeth Bradley canvases in progress, these little gems fit into my purse so I can stitch anywhere.