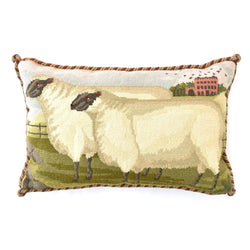 Two Fat Suffolk Lambs - Beasts fo the Field Collection
These plump and contented lambs embody the rural idyll of the Suffolk countryside. The Suffolk breed is a true English treasure, known for its distinctive black faces and the soft warmth of their wooly coats.
The Two Fat Suffolk Lambs design is 20" x 13" on a 25" x 18" canvas. The kit includes a chart card, printed canvas measuring 10 holes per inch, needles, needle threader and Elizabeth Bradley Tapestry Wool.
EBBST04
Fat little lambs
So exciting to see the canvas come alive with each stitch. Colors are beautiful. Easy stitching relaxing food for the soul
I think Im going to make it into a lovely foot stool which is not meant for feet .
Lovely kit!
Growing up, I spent my childhood summers on a sheep farm and have fond memories of feeding sheep and delivering baby lambs in spring. This is a lovely kit because the sheep are the focal centerpiece of the design set against green field and blue skies. While there are 21 colors to stitch with, there are large areas of solid colours for both sheep and background making it fun and quick to work. Truly a delightful project!
Two Fat Suffolk Lambs
Received my kit quickly and intact. I ordered another kit at the same time; that kit was missing the background yarn. I notified EB and received the missing yarn very quickly.
I have separated out the different colors and marked out the grid so am ready to start stitching. Can't wait!
Perfectly Packaged
The kit arrived so nicely packaged with a large, clear chart, Yarn already color coded so I didn't have to do it myself, all kitted up in a sturdy box with a magnetic closure. This is my first Elizabeth Bradley project but definitely won't be my last. I am enjoying the whole experience.
A joy to work!
I am throughly enjoying working this beautiful kit. Instructions are easy to follow. The videos on the website are very helpful too.