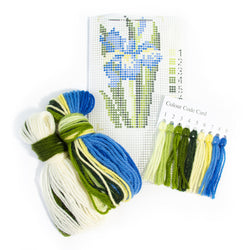 The Starter Kit range makes a wonderful introduction to the world of Elizabeth Bradley! These kits are small in size, making them perfect for beginners to become familiar with Victorian Cross Stitch.
The design is 3" x 5". The Needlepoint Kit is printed on 10 count interlock canvas and is supplied complete with Elizabeth Bradley wool, needle, needle threader, a printed chart, colour code card, and easy to follow instructions for Victorian Cross Stitch. This kit comes on a Winter White background colour only.
EBSTAR3
back to fibers…
I thought to myself a while ago that it would be nice to resume working with the fiber arts again. So, I spun the needle and it landed on counted cross-stitch. And since I have a lovely E.B. book on my shelf I came here for a kit. I chose a lovely litlle Iris Starter Kit. I literally has everything you need to get back into the flow of stitchery—I couldn't be happier!
So pretty!
Love my Elizabeth Bradely needlepoint kits! Great quality, always receive enough high quality yarn for my project, and the canvas is easy to work and is clearly marked.
Small but handy
This little kit fits perfectly in handbag. A few minutes here and there is filled with stitching.
So enjoyable
I love this small piece! My husband was in the hospital for several days. This is small enough to carry in my purse and it gave me peace and comfort to be able to do my needlepoint during those long hours. I love the beautiful colors and design. Thank you for being there for me. I love Elizabeth Bradley products!!!
Fun and easy little project!
Loved stitching this as my first needlepoint! Very easy and fun piece.