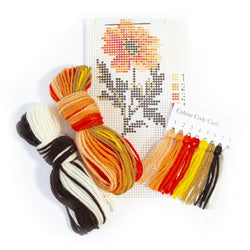 The Starter Kit range makes a wonderful introduction to the world of Elizabeth Bradley! These kits are small in size, making them perfect for beginners to become familiar with Victorian Cross Stitch.
The design is 3" x 5". The Needlepoint Kit is printed on 10 count interlock canvas and is supplied complete with Elizabeth Bradley wool, needle, needle threader, a printed chart, colour code card, and easy to follow instructions for Victorian Cross Stitch. This kit comes on a Winter White background colour only.
EBSTAR4
Introducing a new stitcher to EB
The starter kits are perfect for introducing a new stitcher to EB! I asked my friend to pick out a kit and the Dahlia's vibrant colors appealed to her most. The size of the starter kit is very manageable and she is loving learning the Victorian Cross Stitch. It's fun having a manageable project to start with!
dahlia
great kit with easy to follow instructions and penty of yarn
Elaine
Still collecting EB starter kits! This one has such vivid colors. Have all starter kits now and love every one!
Starter Kit Delight
I bought 3 Starter Kits to give as gifts to friends who have admired my stitching projects. Hopefully they will find Elizabeth Bradley needlepoint as addictive as I have!!